Voluntary Repossessions
A long time ago, in a land far away, a banker called a debtor and told them that they are sending a repossession service to come pick up their car. The debtor said ok, and hung up the phone. If you believe in this fairy tail, you better go hang up your stockings and wait for Santa Claus.
Banks and lenders are notoriously cheap and abhor spending money to recover collateral on a defaulted loan. If the debtor was willing to surrender the collateral, you better believe that the banker would have had the debtor take the collateral directly to an auction house and avoid any expense from a repossessor.
The fact that the banker is calling a repossession service is evidence enough that the bank has already tried everything to get the debtor to surrender the collateral to an auction. It is condescending of a lender to think that the repossession service community doesn't understand this. If it truly is a voluntary surrender the bank would be calling an auction, not a repossession service.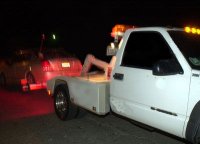 So how do you deal with a banker that insists that his repossession assignment is a "voluntary surrender" and is really only trying to beat you up on price? One common approach is to suggest to the banker that if his repossession assignment is "voluntary" that they should have the debtor take the collateral directly to an auction house and avoid the cost of repossession altogether.
It is amazing how many bankers will recount their original story of it being a voluntary repossession, to it is really a hard core skip that the banker tried to get on his own and now the debtor is hiding the collateral.
Some lenders will attempt to deceive repossession services making the repossession seem very simple and quick. A wise repossessor will see this coming and avoid performing difficult repossessions at discounted prices.
What's your opinion?

Reader Comments:

RepoRick says: Wow, you guys don't pull any punches. I would have to agree though, we have one lender that has assigned us the same "voluntary repossession" 3 times.
---