The Soldiers and Sailors Civil Relief Act, SSCRA was replaced by the Servicemembers Civil Relief Act. of 2003. The law is very specific as to when you may or may not repossess a Servicemembers purchased or leased vehicle. Make sure that all of your
repossession agents
are completely up to date on their understanding of this law, as the penalties for getting it wrong can be quite expensive.
The Servicemembers Civil Relief Act of 2003 states that you may repossess a Servicemembers vehicle if the vehicle was purchased or leased after the individual went on active duty. If the vehicle was purchased or leased prior to the individual entering an active duty status, the vehicle may not be repossessed.
One of the best ways to determine if the individual was on active duty military service is to look at their credit application. If the credit application shows US Army as his current employer, you are safe in repossessing their car. If their credit application shows a civilian employer then they are probably going to be protected by the Servicemembers Civil Relief Act.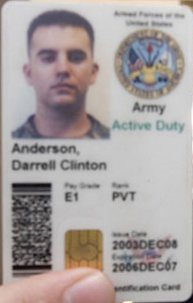 Most of the time it is very clear cut as to if the individual falls under the protection of the SSCRA or not. It can be difficult to determine the status of a military reservist status under the SSCRA. First, in order to be protected from repossession under SSCRA, the reservist must be on an active duty status, normally this would mean they are deployed overseas. An individual on active duty military status should be able to present you an active duty military identification card. They are required to have it on them at all times.
The military should create a database for qualified lenders to verify a Servicemembers status. This would help protect Servicemembers from repossessions and civil actions taken by lenders. If anyone has the ear of their senator or congressperson this would be a great issue to lobby for.
Ultimately the responsibility of determining if an individual is protected by SSCRA falls to the
lien holder
. The hold harmless agreement places the legal and financial responsibility of performing the repossession squarely on their shoulders.
If you find that you have a repossession order on someone that you feel is protected by SSCRA you should double check with the lender and ensure that they are aware of the debtor's protection under SSCRA and see if they still wish for you to proceed with the repossession. You may lose that one assignment, but the respect that you get from the lender will generate many more repossession assignments in the long run.
What's your opinion?

Reader Comments: