If you do not have the time to do regular maintenance on your repossession service trucks, what are you going to do when the trucks break down because of lack of basic maintenance? Repo Times has compiled some great maintenance tips collected from some of the repossession service industry leaders
.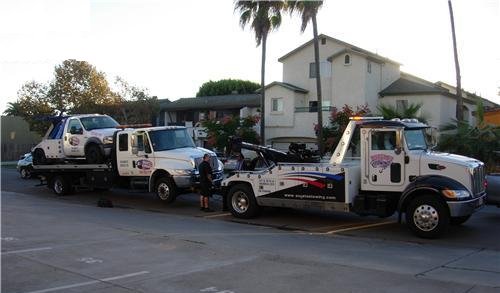 The best way to ensure that your repossession service trucks are regularly maintained is to implement a system of checks and balances where someone in your repossession service is accountable for the repossession truck maintenance.
Every repossession truck your repossession service owns should have it's own 3 ring binder with all of that truck's maintenance records in it. Just some basic organization of your repossession service trucks maintenance is a great start.
Every repossession service truck driver should have a
maintenance
checklist that the driver should have to fill out and log the maintenance they performed on their repossession truck. The checklist should include checking all of the repossession trucks fluids: oil, transmission fluid, brake fluid, coolant or antifreeze, windshield wiper fluid and hydraulic fluid. The driver should also check all towing straps, chains and hydraulic lines for wear.
The repossession agent's supervisor should be made responsible to check every driver's log sheet and make sure that the repossession service trucks are properly maintained. The supervisor should have the lot attendant or repossession porter spot check the fluid levels in every repossession service truck to double check that the truck maintenance is being performed.
Next to your employees, your repossession service trucks are your company's largest asset. emphasize to your drivers that when their truck is down they are not making any money either. It is up to them to take good care of their repossession service truck and it is up to you to check and make sure it is being performed regularly.
What's your opinion?

Reader Comments: