Hot Wiring a Diesel Engine
Did you know that a diesel engine is the easiest vehicle to hot wire? any diesel engine, whether it is on a tractor or a diesel Mercedes can be hotwired with just a screw driver or tire iron in a matter of seconds. Anyone with the most basic mechanical skill can be a master with just a little practice.

There are times when a repossession agent needs to be able to hot wire the collateral they are trying to repossess. Most newer gasoline powered vehicles have high security keys with transponders that virtually eliminate the possibility of hot wiring the vehicle.
Vehicles with diesel engines are much easier to hot wire than any gasoline powered vehicle. The reason for this is that diesels do not have spark plugs. Hot wiring a diesel will only get the engine running for you. Hot wiring a vehicle will not release any steering locks or transmission locks that are engaged.
Step one is to locate the starter, it can be found near the back of the engine, on the lower half. You will have to crawl under the vehicle to locate it. If you don't know what a starter looks like you will have to get someone with experience to help you.

On the side of the starter is a device called the solenoid. The solenoid is round like the starter, but it is about half to a third smaller than the starter itself. The starter will have one large electric terminal the solenoid will have two large terminals.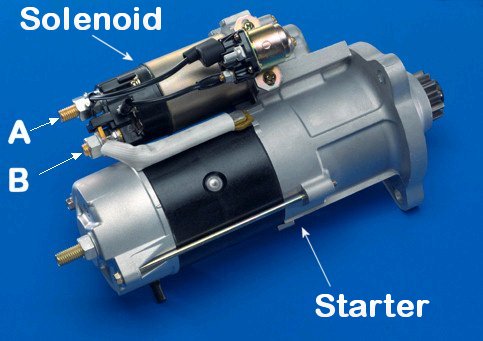 If the vehicle has a manual transmission it is imperative that you ensure the vehicle is in neutral. The vehicle will start and run you over if you forget to make sure it is in neutral. This is very important, always double check manual transmissions on any vehicle you are going to repossess.
Once you have ensured that the manual transmission is in neutral, short the two large terminals on the solenoid together and the engine will start. This will work on tractors, heavy equipment or anything with a diesel engine you are trying to repossess.
Now before everyone flames out on us for publishing information on how to hot wire a diesel, this information is already known by car thieves. Locks only keep honest people honest. Information keeps free people free. If you are going to use this information for illegal purposes, you will lose your freedom.
What's your opinion?

Reader Comments:

Several repo agents have pointed out that this method of hot wiring a diesel will not power an electric fuel pump on many tractor trailers. It would be necessary to jump power to the fuel pump in order to repossess your collateral. Thanks to all of the readers that pointed this out.

---