Repo-Times.com has a new logo and brand image to improve the look and feel of Repo Times. We hired several designers to give our online
repossession
service newspaper a new look. We looked at hundreds of new logo designs and decided on the top of this page.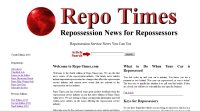 Repo-Times.com has coffee mugs and golf balls being imprinted with the new logo. The mugs and golf balls are going to be given away at the 2010 CARSOA repossession service convention in Vancouver, BC.
We have many great plans for Repo-Times.com in it's first year of publication. We are growing fast and look forward to bringing you all of the latest information you need to run a successful repossession service in today's repossession service industry.
Repo-Times.com is holding a contest: The first repossessor to identify the subliminal message in our new logo wins a Repo Times coffee mug, and six pack of Top Flite golf balls! Email your answer to the link below.
We are looking for feedback on our logo and image branding. Please send us your thoughts and comments to the link below.
What's your opinion?

Reader Comments:

DonMeister says: I looked at your new logo using photo shop and I can't find any subliminal messages. are you sure it is there?

RepoRick says: I get it. The subliminal message in the new Repo-Times.com logo is: Red Around the World.

Congratulations to RepoRick! You figured out the subliminal message without the use of photo shop. Enjoy your new Repo Times coffee mug and Top Flite golf balls.