So You Want to be a Repo man
Most repossession services will only hire someone with experience in the repossession service industry. How do can you get experience in the repossession service industry if no one will hire you with out experience?

This is a tough "Catch 22" situation, but there are plenty of ways around it for those of you that are truly dedicated to become a repossessor. The repossession service industry is growing and most quality repossession services are in the need for quality repossession agents with some degree of experience. Repossession services are not looking to hire someone that is already unemployed, and just watched "Operation Repo" and thought that would be a cool job.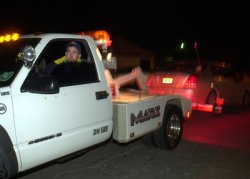 Don't call a repossession service and ask if they are hiring. Most repossession services will just hang up on you and you will quickly find that cold calling repossession services is a waste of time.
Many repossessors started in the towing industry and moved over to the repossession service industry after they had perfected their towing skills.
Several states require repossession agents to be licensed by their state. Call your secretary of state's office and ask if repossession agents need to be licensed in your state. There is normally an information pack that the state will mail you if a repossession license is required in your state.
If a repossessors license is required in your state try to work through the prerequisites for obtaining a repossession agent's license. That will help give you a solid start to getting your foot in the door of the repossession service industry.
If a repossession agent license is not required by your state, attempt to solicit repossession assignments for yourself through a local buy here pay here car lot. They always have dozens of cars that are up for repossession and the lot will usually be able to supply you with keys to repossess cars.
Another way to get your start in the repossession service industry is to take a repossession agent training course from
Repo U
. They offer a complete repossession agent training course at a reasonable price. Completing repossession agent training is a great way to show a repossession service that you are dedicated to becoming a great repossession agent. They can hire you, or their competition will.
What's your opinion?

Reader Comments:
---