Carolina Adjusters Joins CARSOA
Carolina Adjusters, North Carolina, and South Carolina's oldest and largest repossession service joined the trade association for the repossession industry , CARSOA, The Contingent Asset Recovery Specialists of America. The announcement came recently through a CARSOA representative.

Carolina Adjusters operates six repossession service offices in North Carolina and five repossession service offices in South Carolina. Currently, Carolina Adjusters has 154 repossession trucks on the road throughout the Carolinas.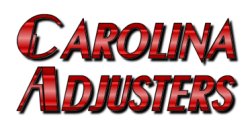 Carolina Adjusters forte is in repossessing cars and boats that other repossessors have not been able to locate or repossess. They also specialize in repossessing semi trucks and heavy construction equipment.
Rumors are circulating that Carolina Adjusters office manager Nick Caruso is going to be appointed to the CARSOA board of directors. Speculation is that Nick will be appointed during CARSOA's August board of directors meeting being held in Vancouver Canada.

CARSOA is a trade association for the repossession industry. They have repossession service membership in all 50 states, Canada and Mexico.
Repo Rick Says: Congratz Nick, I'm sure you will lead the repossession service industry into positive directions for years to come. You are very knowledgeable in all areas of running a repossession service. Congratz!